One of the special features we offer is same day crowns. Only a small percentage of dental offices currently offer this convenient service, and we're proud to be one of them.
When the structure of an entire tooth is compromised (from a fracture or decay), a crown, which covers all of the surfaces of the tooth, will need to be placed. The example below illustrates a fractured front tooth.
The first step in the process involves a 3D camera used intraorally to create a scan of the tooth requiring the crown. The tooth is then prepared for the crown. Then a CAD (computer aided design) and CAM (computer aided manufacturing) system are used to create your crown while you wait. Before your new crown is cemented, we check the fit, the contacts, the bite and the color to make sure it has the same characteristics of your natural teeth.
A bridge is a fixed (non-removable) appliance that replaces multiple teeth. It's an excellent way to replace multiple teeth.
This process saves time, is convenient, eliminates a temporary restoration, and assures a perfect fit.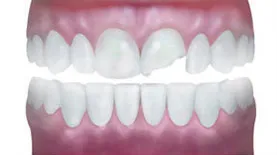 A severely chipped front tooth
The tooth prepared for a porcelain crown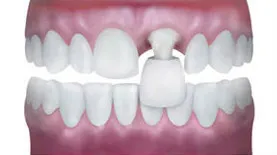 The porcelain crown being tried in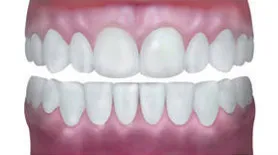 The tooth restored to its natural appearance