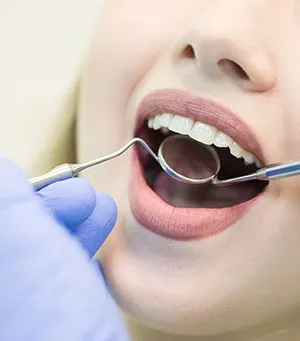 In order to treat each and every patient as an individual with unique dental needs, it is vital to completely assess their current oral health. During the first visit, we'll address your dental complaints and concerns, review your medical and dental history, assess the periodontal health, look for potential tooth decay, take any necessary radiographs, and perform an oral cancer screening as part of the comprehensive exam.
Radiographs
The primary way for the dentist to get a full assessment of the teeth is by taking a series of radiographs that will help provide insight into the current condition of the mouth. The radiographs will show us any potentially unerupted teeth, abscesses, tooth decay, internal resorption, or potential tumors.
Periodontal Assessment
The gums and bond that hold the teeth in place are called the periodontium. Unfortunately, they can be neglected and in severe cases, lead to tooth loss. We will assess your gum tissue by taking measurements around your gums to assess their health. With this information, we will be able to recommend the best type of periodontal treatment (cleaning) to achieve your best results.
Oral Cancer Screening
At the initial visit and following visits, we perform an oral cancer screening. We are looking at all areas of the mouth including the lips, tongue, soft and hard palate, and throat. Concerns regarding oral cancers include any of the following symptoms:
Sores that bleed easily or do not heal
Red or white lesions that remain for more than 14 days
A thick or hard spot or lump
Roughened or crusted area
Numbness, pain or tenderness
Cleaning
Once it is determined what type of cleaning you need, a licensed hygienist will remove the plaque build-up which is caused by bacteria collecting in the mouth. Tartar or hardened plaque will also be removed with a special ultrasonic instrument or hand instruments. The cleaning will end with polishing to remove surface stains. Your hygienist will give recommendations for follow up visits and maintenance at home with tools that may include additions to your brushing and flossing. This cleaning may or may not occur at the initial visit according to how much time is needed for the type of cleaning recommended.