Patient Forms, Map and Directions to Calhoun Office
Your first visit to McAfee Dental involves a few special steps so that we can get to know you. To understand what to expect, please read through this page. You'll find all the practical information you need, such as a map and directions to our office, practice hours, payment policies and more. There's also background information about our committed staff and our first visit procedures. You can also save some time by printing out and completing the patient forms in advance of your appointment.
Mission Statement
Our goal is to treat all of our patients as individuals. We will help you achieve your most attractive and healthy smile in a gentle, caring, family-like atmosphere. We are dedicated to providing high-tech, consumer-friendly dental services while ensuring maximum value for our family of patients.
We are committed to updating our knowledge and skills through continuing dental education. This will ensure that we always deliver the finest care available in the Calhoun, Georgia area for all phases of dentistry, including Cosmetic, Implant and General Dentistry
---
What To Expect
Being well-prepared for your appointment will ensure that the doctor has all of the needed information to provide the best possible care for you. It also will help relieve any unnecessary anxiety you may be feeling. Educate yourself on your symptoms by reviewing the content on this Web site. Also, take some time to review our staff page and familiarize yourself with the doctors. We look forward to your first visit.
---
Financial Policies
PAYMENT OPTIONS:
Cash, Check, Discover, Visa, MasterCard, CareCredit, and Citi Health Card
Esthetic and restorative dentistry are excellent investments in an individual's well-being. We firmly believe that financial considerations should not be an obstacle in obtaining the treatment you desire. We are sensitive to the fact that each patient has different needs and have several payment options available so that treatment is accessible to everyone. All financial discussions
and arrangements are kept strictly confidential
INSURANCE ACCEPTED:
Most insurance plans are accepted. As a courtesy to our patients, if you are covered by a dental insurance plan, we will gladly file your insurance forms for you with a request to have the benefits assigned to the office. Co-payments are required at the beginning of treatment. Patient is responsible for any estimated amounts not covered by insurance.
CARECREDIT FOR DENTAL PROCEDURES
We're pleased to offer our patients CareCredit, North America's leader in patient payment plans. CareCredit lets you begin your treatment immediately – then pay for it over time with low monthly payments that fit easily into your monthly budget.
Your healthcare credit card.
CareCredit is the credit card exclusively for healthcare services. With no up-front costs and no pre-payment penalties, CareCredit lets you pay over time and frees up cash and credit cards for the other things you want or need. CareCredit offers low monthly payment plans for healthcare procedures not commonly covered by insurance, including dental treatments. Plus, you can use your card again and again to pay for additional treatment for yourself or family members in any CareCredit practice.
Low minimum monthly payments
No up-front costs, no pre-payment penalties
Learn more by visiting CareCredit.com or contacting our office. Ready to apply? Apply online for your CareCredit card today.
CITI HEALTH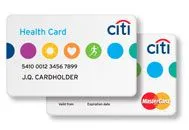 Get flexible financing for health care services using a Citi Health Card account. Plus, if you qualify, the Citi Health Card also accesses a Citi Health MasterCard® account that can be used everywhere else MasterCard® credit cards are accepted. Apply now for a Citi Health Card account .